MighyTips.com sponsors Blackburn Rovers Captain Lewis Travis
MightyTips.com sponsors Lewis Travis!
We are thrilled to sponsor Blackburn Rovers skipper Lewis Travis, a partnership that will drive home our status as one of the world's biggest betting guide websites.
The collaboration with the highly-rated Liverpool-born midfielder will further reinforce the MightyTips mission to provide the best-in-class, in-depth and insightful football sportsbook reviews, bonus betting offers, and much more.
We see his collaboration as another step toward enhancing and solidifying our brand presence in the professional football industry. In the meantime, we will continue to provide our visitors with the best possible user experience, which contains a wealth of betting information, including fast withdrawal betting sites, free football tips and much more.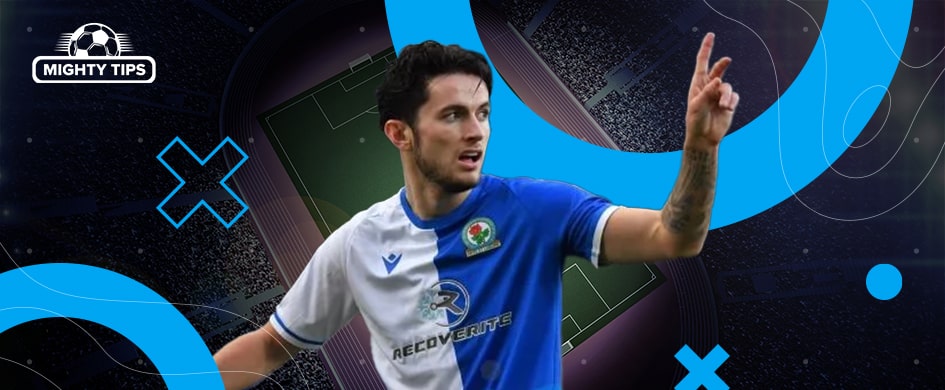 MightyTips' Communications and Marketing Manager Eugene Ravdin believes Lewis Travis and Blackburn embody his team's attitude and look forward to working with them in the future.
He said:
We are honoured to be associated with Blackburn Rovers and Lewis Travis. Just like we strive to deliver high-quality football content, he is dedicated to giving his best for the team and for the fans every time he takes the pitch. This commitment to excellence is something we share. We wish him to stay at the top of his physical and mental conditions in another successful season.
Born in Whiston, just outside of Liverpool, Travis' formative footballing years were at the Liverpool Academy.
He cited Steven Gerrard as an idol and the player he most admires in an interview with club media back in 2015, and you can see more than a tinge of Gerrard's tenacity, drive, and combativeness in the way Travis plays.
Although Liverpool Academy released him after ten years, he was immediately snapped up by Blackburn Rovers and graduated into the first team in the 2017/18 campaign, making his debut against Stoke City U21s in the EFL Cup.
His highlight in the Blue and White came at the beginning of the 2022/23 season, slamming in a long-range screamer against QPR to send his team to a 1-0 win. It was the perfect way to mark his first official game as captain.
His general performances throughout 2022/23 have attracted the attention of several clubs, with Rovers manager and former Denmark legend Jon Dahl Tomasson compelled to warn interested parties that the club will only accept a significant amount of money for a player with three years left on his contract.
It's hard to see Tomasson accept anything other than a massive bid for Travis, which means his immediate future is with Blackburn and helping them challenge for promotion into the big time.
They have had a great start to the season - setting out their stall with a statement win over one of the pre-season favourites for promotion in West Brom.
Travis started the game and was involved in the first goal - assisting Dilan Markanday on 20 minutes.
They now face Rotherham (A), Hull (H), and Watford (A) throughout the rest of the month, with EFL cup action against Walsall also on the docket.
Whatever comes next, you can be sure that MightyTips will closely follow the Travis's path, while providing visitors with the advices on the best UK betting company available on the market and the tops betting apps in the UK.
The Riversiders narrowly missed the play-offs last year, finishing seventh on goal difference. Despite beating fellow play-off contenders Millwall 4-3 on an epic final day, it wasn't enough to pip Sunderland for a chance at the Premier League dream.
Blackburn Rovers, a historic name in British football, holds a significant space in the country's footballing history due to their remarkable achievements and enduring legacy. Founded in 1875, they are one of the founding members of the Football League in 1888, and have long been a part of the fabric of the English game.
The zenith of their history was undoubtedly the 1994-95 Premier League season. Under the stewardship of Kenny Dalglish, and backed by the investment of local steel magnate Jack Walker, Blackburn Rovers shocked the footballing world by winning the Premier League title, breaking Manchester United's stranglehold on the league. This victory established them firmly in the annals of football history.
Furthermore, Blackburn Rovers are among only three English clubs to win major trophies in three centuries (19th, 20th, and 21st), underlining their esteemed place in British football. Their strong community involvement and youth development programs continue to contribute to their storied reputation, making Blackburn Rovers an integral part of British footballing heritage.
MightyTips is a digital realm where your passion for sports betting meets expert guidance, introducing our cutting-edge website with reviews of the top football betting sites, exclusively dedicated to bookmaker reviews and free football betting tips. We are your compass in the world of wagering, helping you navigate the intricate terrain of sports gambling with confidence and precision. Whether you are interested in high stakes betting or new betting sites, or anything else betting-related - we've got you covered.
MightyTips has harnessed the power of knowledge and experience to create a one-stop destination for betting enthusiasts interested in the very best online bookmakers and their offers.
Our team of seasoned experts is meticulously analyzing and reviewing a vast array of bookmakers, leaving no stone unturned to provide you with the most comprehensive insights. Discover the best odds, exclusive promotions, live betting sites and in-depth assessments of each bookmaker, ensuring you're always one step ahead in your betting endeavors.
But that's not all! We are your treasure trove of free football predictions, carefully crafted by our experts. Whether you're a seasoned punter or just starting your journey, our tips will give you the competitive edge you need to make informed choices and optimize your betting experiences.
MightyTips is a worldwide availabe resource