Vbet mobile app
In this guide, we'll be teaching you how to get and download the Vbet application – both for the mobile site and for Android or iOS.
Currently this bookmaker doesn't provide a mobile application for this platform
Currently this bookmaker doesn't provide a mobile application for this platform
Not available in your location
Try these bookmakers instead:
Although a Vbet application is accessible, no Vbet Android app or iOS is available on the app store. However, the mobile site is very similar to the desktop site and offers most of the same functions.
The Vbet application is not available on the Play Store on Android. Instead, you'll need to access the Vbet app download via an .apk file from the source.
First, you'll need to register with the site, which can be done using their site via mobile phone. So, when you gain access, you'll need to do this first in order to begin betting.
Create an account – you will only need to verify your account after putting in all of your details and confirming.
Download the .apk file straight from Vbet's source.
Login using the Vbet app – required so that your details are remembered, then you can begin using the bookmark on the mobile site.
Begin betting! You can now use the mobile site and place bets anywhere you go.

Again, the Vbet application is sadly not available on the App Store on Apple devices. Instead, you'll have to find and download the Vbet apk within the net straight from source.
You'd need to register with their site first before finding your apk file within the source so that you can add the app to your iOs device.
Creating an account and confirming that all of your details are correct - accompanied by the verification process.
Download the apk. File from the source Vbet provides on their website.
Log in with the Vbet application once it has finished downloading and has appeared on your phone.
Begin your betting ventures - you can now access Vbet faster than ever with the application on your phone!
Vbet's mobile website version allows punters to access a small replica of the desktop site. It is virtually the same in many places, but the accessible bar at the top with all of the options is now a drop-down menu that appears by clicking top right, displaying all of the options.

However, one of the downsides is how less robust the mobile site is compared to the desktop. It is a little more laggy and does not offer lightning speed due to not being an app. As it has its limits, it can also potentially stall your browser and does not feel all too secure when it comes to fast betting online, or cashing your money out.
The available .apk application is slightly preferable to the mobile website overall, giving punters a good alternative.
Vbet mobile offer
Though there is no specific Vbet mobile app offer, you are able to enjoy the many offers the bookie gives away on its desktop page. You'll be able to enjoy the football Acca promotion, for example, which promises free bets if you lose by one result.
With this, you'd need to place an accumulator with four football matches, then wait for the results to come in.
Once the matches are all settled, if you lose by one result, you'll be granted a free bet of around £25 to spend on matches and events you usually would not.
This is an ideal promo for fanatics of football and frequent punters who are knowledgeable about the sport.
In which country is the Vbet app available?
Vbet has a presence in quite a few countries, holding several licenses that allow the bookie to operate in the UK, Curacao, and Malta. This is obviously very good for the modern betting markets.
The list of available countries is really big, as we said earlier, as Vbet has a global presence and is available in most countries, but there are restrictions.
The USA is one country currently without access to Vbet, with restrictions also extending to Israel, Romania, the Netherlands and a few more countries.
The website and the Vbet mobile site and app are virtually the same – only a few minor layout changes that allow familiar users to embrace betting on mobile without an app. The only catch is that there is a lot of lag with the mobile site and the desktop site itself is not the fastest either.
The Vbet .apk application is much faster than the mobile application, and is a preferred alternative in our eyes, bringing new hope to the front of mobile betting when it comes to using Vbet on the go for punters.
The usability is pretty good, allowing you to place bets safely and make sure you have done so.
Both of the phone types share the same login methods. So, you can easily find the login and signup options on the top right of the site, very similar to the desktop app which intends to highlight this for newcomers to the website.
Once you've entered this section, any necessary information will be asked for and, upon entering, you'll be asked to verify before accessing the website with your newly created account.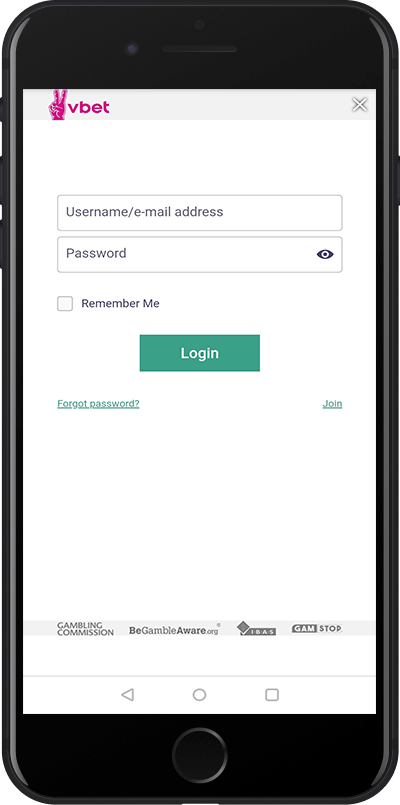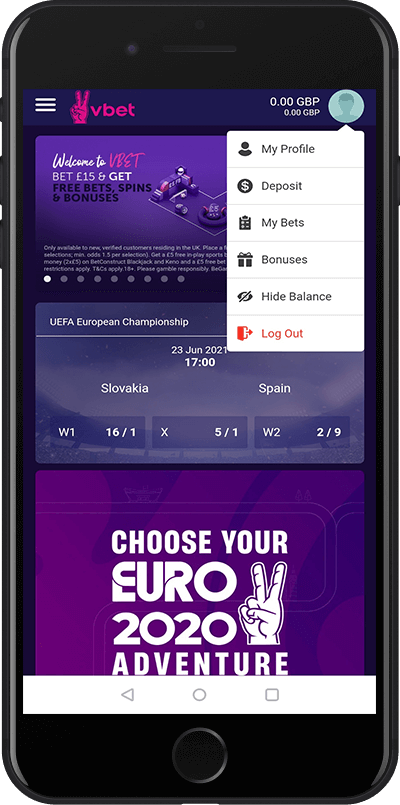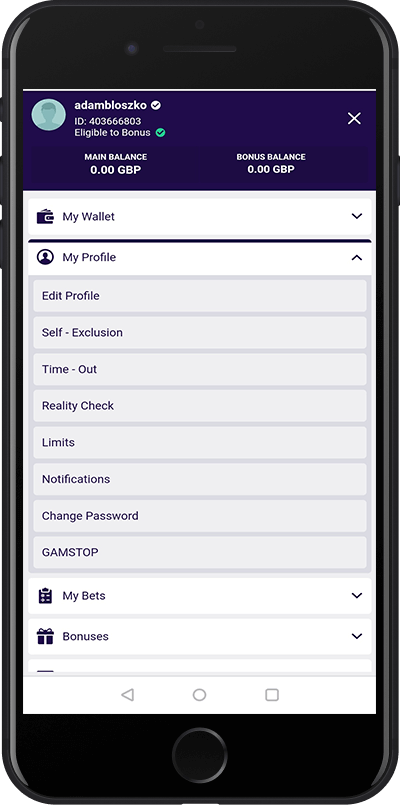 The Vbet application offers two different types of betting. Their in-play and pre-match betting options can be accessed by switching between their drop-down menu features.
It is simple to pick between one of the two betting types, allowing you to take your pick of the sport, then a league that is active within any of the major countries the sport is popular in, then move on to a choice of the available matches.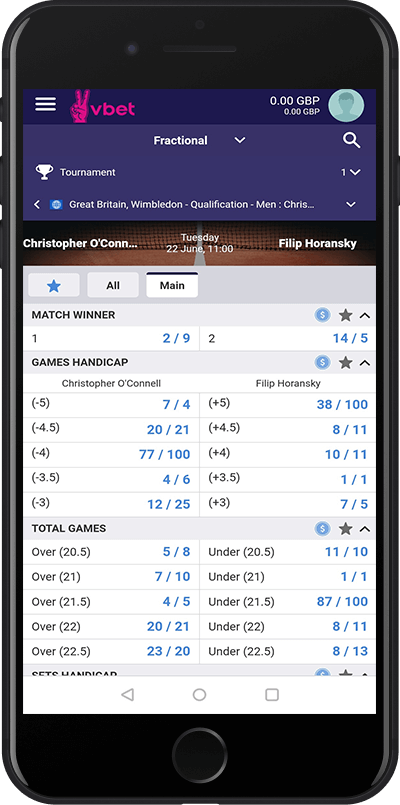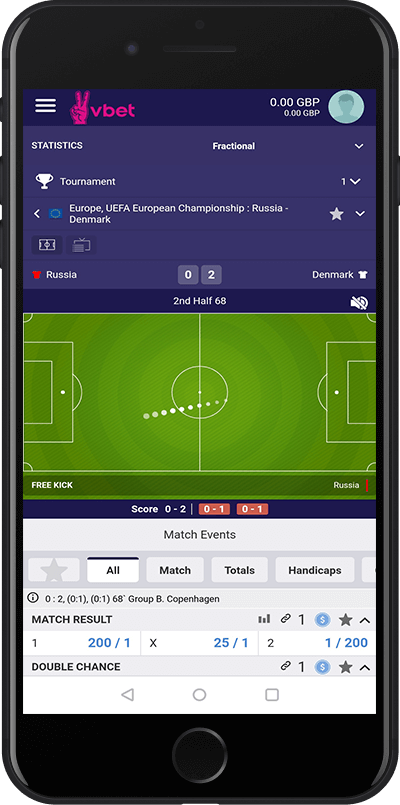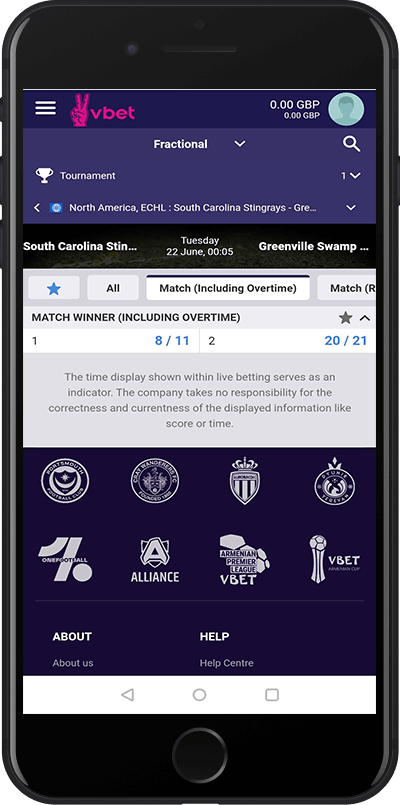 As stated before, live betting and pre-match betting are separate from each other when it comes to the mobile site's offers, just like the desktop site. It does not seem to offer any live streams, from what we can currently see – but match updates and scores are available for anyone interested in betting.
There is a statistics update too, along with a rough representation of what is happening on the pitch, allowing punters to keep up to date and to calculate what might happen next.
Payments and withdrawals can be made over the phone too, similarly to desktop application methods. The options become available by accessing your profile and account, before opting to add funds or to withdraw a sum of money.
There are a few popular payment methods to suit most punters, allowing for a flexible way of collecting your money or sending it through to your betting account.
Deposit and withdrawal limits are usually around the £10 minimum bracket. There are also some fees imposed but only if the method you use enforces them on you, otherwise it is free.
Picking your method is easy and only requires linking with your account, allowing for a slick and easy navigation period for any punters using this app.
Deposit methods
| | | | |
| --- | --- | --- | --- |
| Payment method | Deposit amount | Deposit time | Deposit commission |
| Mastercard | £10 – £2,000 | Instant | ❌ |
| Skrill | £10 – £5,000 | Instant | ❌ |
| paysafecard | £1 – £10,000 | Instant | ❌ |
| Neteller | £10 – £500,000 | Instant | ❌ |
| VISA | £10 – £2,000 | Instant | ❌ |
| ecoPayz | £10 – £5,000 | Instant | ❌ |
Withdrawal methods
| | | | |
| --- | --- | --- | --- |
| Payment method | Deposit amount | Deposit time | Deposit commission |
| Mastercard | Min. £10 | 3 hours | ❌ |
| Skrill | £10 – £10,000 | 3 hours | ❌ |
| paysafecard | £10 – £10,000 | 3 hours | ❌ |
| Neteller | Min. £10 | 3 hours | ❌ |
| VISA | £10 – £10,000 | 3 hours | ❌ |
| ecoPayz | £10 – £10,000 | 3 hours | ❌ |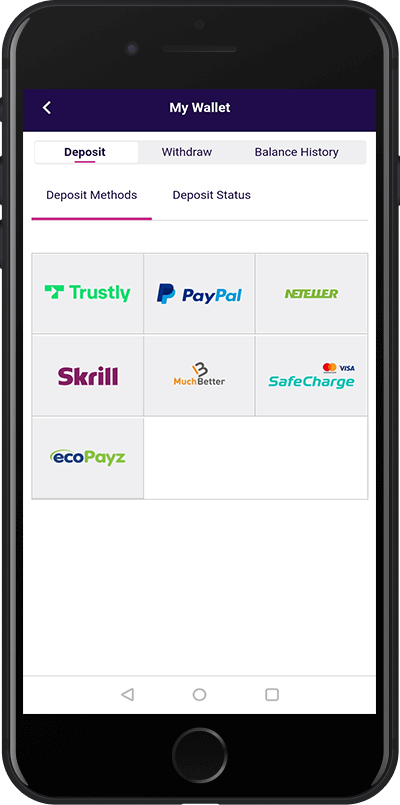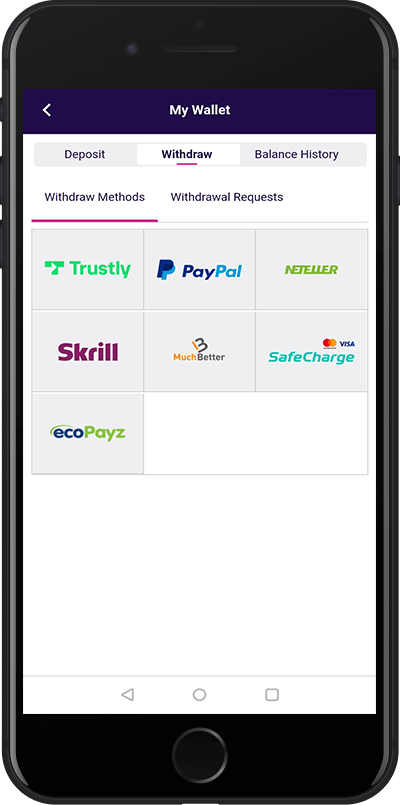 The .apk version for both phone types is the same when it comes to support, and so is the mobile app. This is a unified support option, with an email, a phone number, and a live 24-hour available chat for punters to voice any concerns to staff members.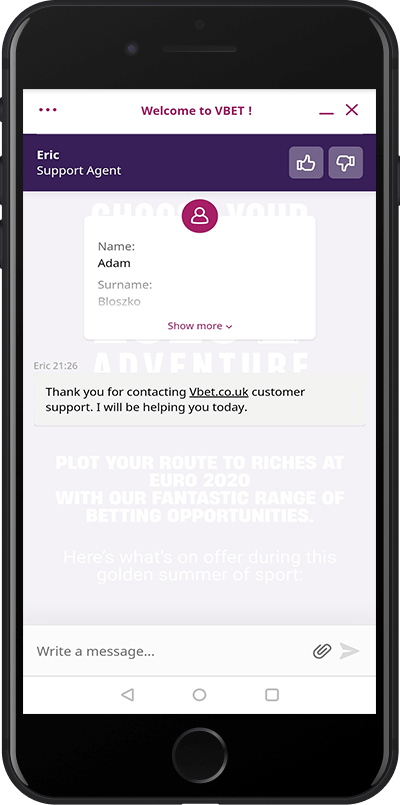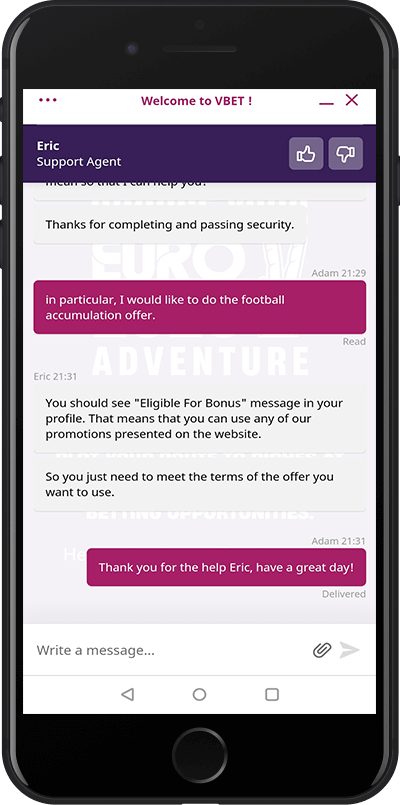 Drawing upon our experience with the Vbet mobile application, we have a clear idea of how we think we would rank this app and mobile site. They certainly need to get the application onto the stores rather than .apk, which is punters' preferred method of gaining access.
Advantages
Good design, including menu
Score updates and game updates
Easy deposits and withdrawals
Limitations
Can sometimes be quite slow
Applications not on app stores
The .apk installation of the application Vbet has published might put some punters off upgrading from the mobile website to the apps, which is one of our concerns. But the applications work fine, which is better than having a much clunkier and slow mobile website at your disposal.