Supabets mobile app
This is an in-depth overview of the Supabets betting app's sportsbook for mobile. Step-by-step download instructions, distinctive features, tips & recommendations – keep on reading our unique article.
We don't recommend this bookmaker in your location!
Try these bookmakers instead:
Here, the Mighty Tips team offers you a critical, fair review of the bookmaker's mobile offer along with clear instructions on how to install Supabets Mobile Sportsbook app. We ask you not to label our review largely nit-picky: what we try to do now is emphasize the service's gaps so that all players could enjoy a next-level betting quality on Supabets in the future.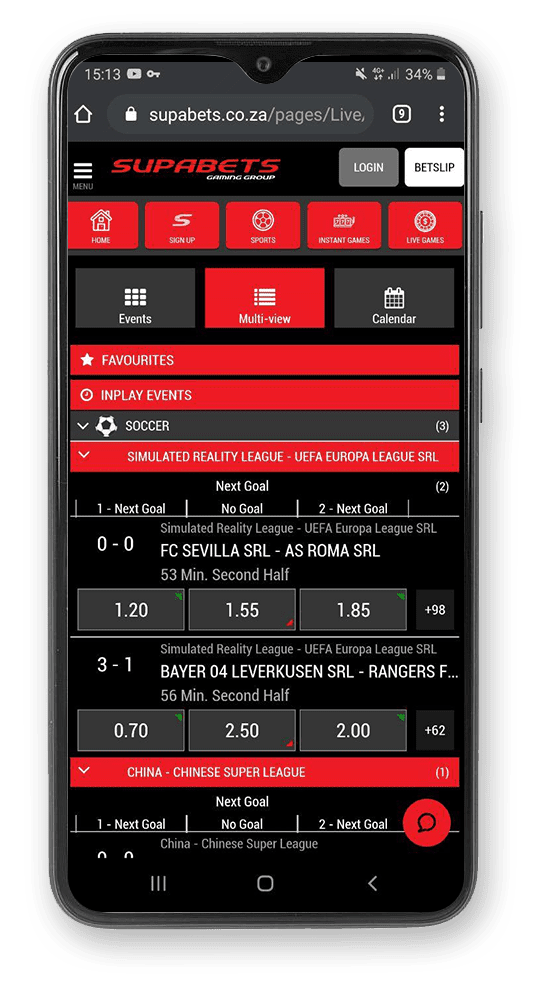 The options proposed by the South African bookie to its mobile bettors are the following:
New mobile website
Old mobile site version
Mobile App – universal for all platforms
It is important to stress from the start: there is no native app for Supabets in a traditional sense – meaning, no Supabets app download from app markets or other sources is needed. We are going to elaborate on it shortly.
Go to the mobile site's homepage.
Scroll down to find the Available Apps caption.
Even though it is composed confusingly, tap on the very right circle-button saying "SB."
Instantly, you will be redirected to a new (!) main page, and a pop-up window will ask you to create a home screen shortcut.
This is the extraordinary case of Supabets SA Mobile App: technically, it does not exist, but the bookmaker exploits the function to create a web-page screen icon that most of the smartphones have now. As a result, everything indeed looks like an app has been installed.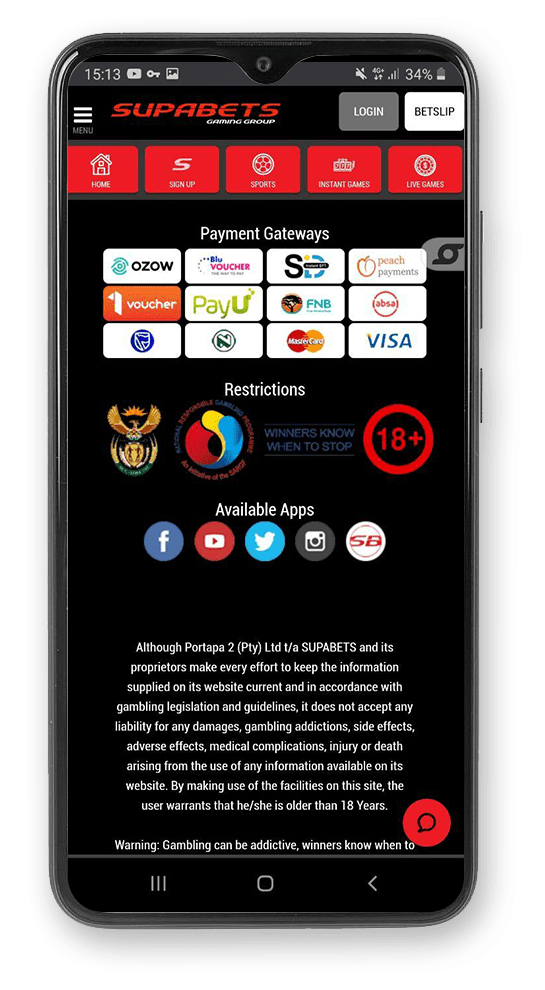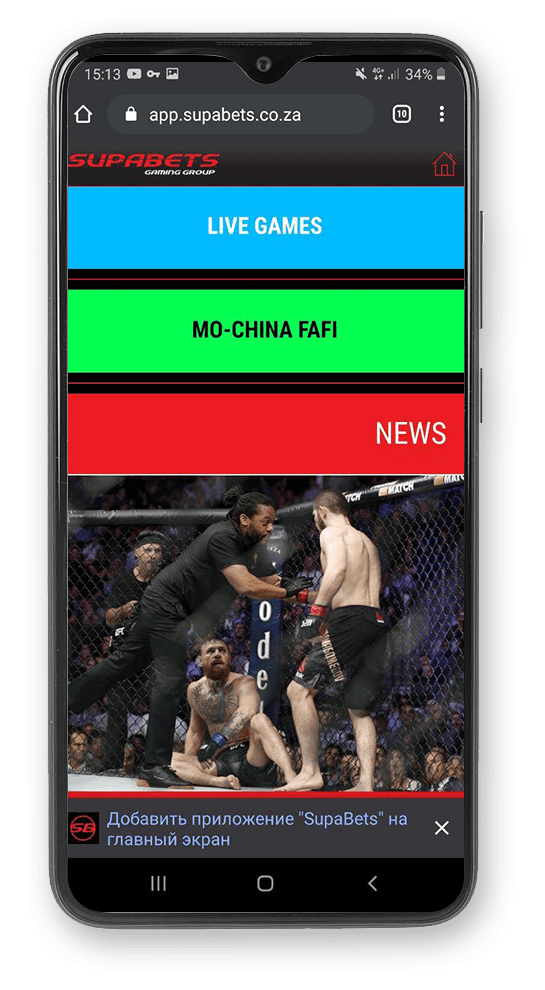 Unfortunately, Supabets is not available for iOS.
Taking into consideration the majestic promotions that this South African bookmaker offers, we are going to be maximally honest and comprehensive in our examination of the underdeveloped platform.
Firstly, the idea of not implementing a full mobile application is quite deceptive. One of the few reasons people would install a Supabet app is due to its promptness (which, in its turn, stems from storing data on the phone instead of a website server). This mechanism cannot apply to the browser site "application" which is simply accessed from one's home screen.
At the same time, the mobile app is significantly more convenient to use since it is devoid of browser perimeter-blocks (URL-line, settings, etc.). Another valuable observation during our live test: frequently, buttons in the mobile Supabets app require additional one-two taps to operate.
Given that you can not win in terms of speed by switching to the so-called mobile app just try using the Lite browser mode instead – it does work substantially faster while certainly losing in user-friendliness. Well, a decent trade-off for many punters with battery or internet issues.
The application version is raw in several aspects: in case a player presses on "Returning events" or "Promotions" window, the redirection to the basic mobile site version happens.
Talking about the layout of the app, it is quite down-to-earth and friendly. However, the starting page of the "app" mode consists of several monochrome HTML blocks of seemingly random palette colours. The other part is taken by an immense "News" block – something we have not seen before and which provokes a fair portion of irritation because the betting sections are located at the very bottom.
Frankly speaking, the app needs a good deal of development and bug-fixing. Our team wishes that the Supabets bookmaker reads our overview and turns it into a future advantage.
Scroll the application homepage all way down: press large "Bet Now" block -> click on a small "Login" button in the upper-right corner. Unfortunately, such a fundamental task as sign-in is not reachable from the starting page. Getting to the cherished page, several fields will be seen:
Username
Password
I Accept Terms and Conditions (checkbox)
Forgot your Password (additional function)
Does it look like something is missing? Right, the Supabets mobile offer does not have the generally implemented "Remember me" piece of functionality. Besides, all mobile Supabets versions avoid this handy and time-saving setting.
For both Lite and Full mobile site versions, the "Log in" window is located in the upper part of the main page.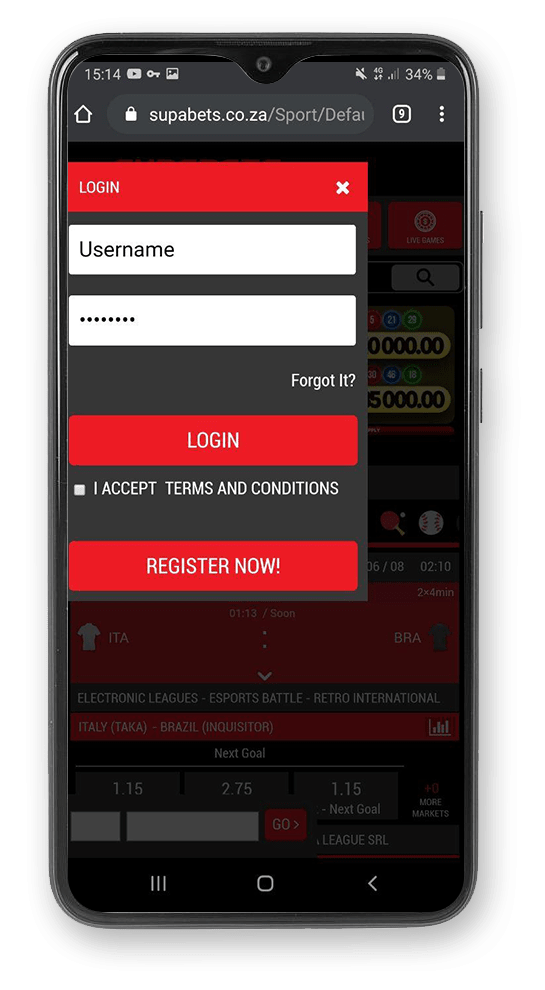 Importantly, there is no Sports-only Supabets apps or site mode developed by SupaBets. You will always see "Live Games," "Numbers," and "Mo-China" action buttons in the top part of your screen – no matter how much sense these words make to you.
While both New and Old mobile sites offer an essential range of functions, we found the design quite complex and not intuitive at all. After selecting the desired bet on an event-page, we have struggled to find the bet slip for several minutes. Usually, it appears right at the lower-centre of a screen: instead, Supabets put in the very corner with a millimetre-long bet counter.
In the bet slip, everything seems entirely coherent – yet, the crimson monolithic "Amount" bars can be confounding at first. Stepping aside, everything here appears in place.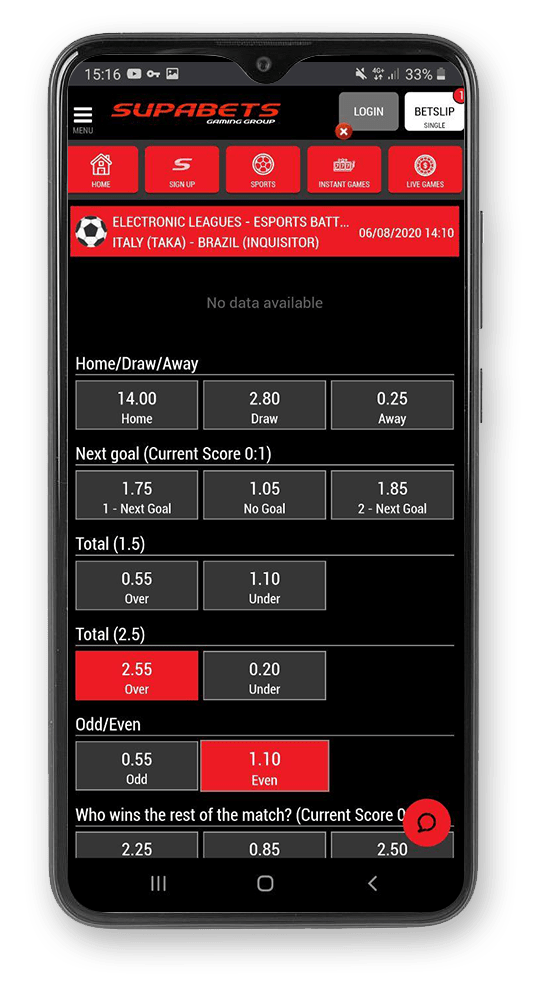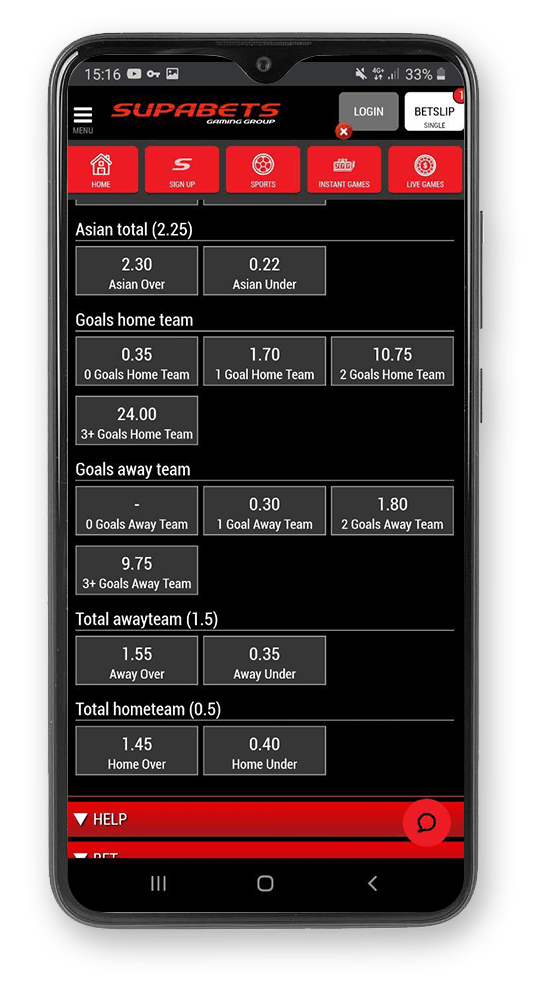 Alas, on-air betting is one of the weakest aspects of Supabets. Neither visual statistics, nor detailed timeline breakdown, nor live streams are displayed. The most superficial info is presented: the current score and for how much time an event has been going.
At the same time, live betting in its ordinary sense is possible and works just alright. Add stakes to your bet slip, confirm them – you are all set! Only make sure to have another third-party service to follow the ongoing play analysis.
For mobile site versions, two large green-red pushbuttons, "Deposit" and "Withdraw" are starkly put at the bottom of the screen. Once you are logged in, they will let you conduct cash-in and cash-out operations promptly.
Available payment methods for South Africa are:
Bank transfers: FNB, Nedbank, ABSA, Standard Banks
VISA & Mastercard
OZOW
SD – Instant EFT
Peach Payment
1Voucher
PayU
Also, the Supabets allows you to withdraw your winnings directly to the bank account you send them to. Send an email to withdrawal@supabets.co.za to request a withdrawal of this type.
Do not forget about the required FICA verification – South African ID and Proof of Residence must be sent when asked by the Supabets.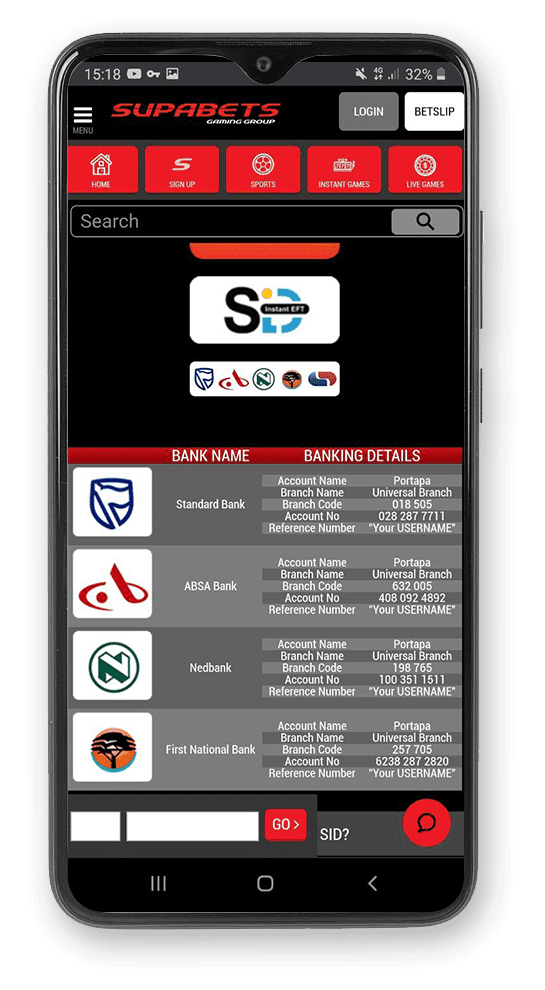 The most comfortable option accessible from mobile is live chat support: just click on a red dialogue-sign circle visible while inside the Sports section. A fill-in form will come up with a handy "Start chat" button.
On their "Contacts" page, the bookmaker has a handful of customer service's mobile numbers and email addresses for various purposes. Also, Supabets has a list of South Africa offline branches with addresses and mobile phones attached.
Good job here!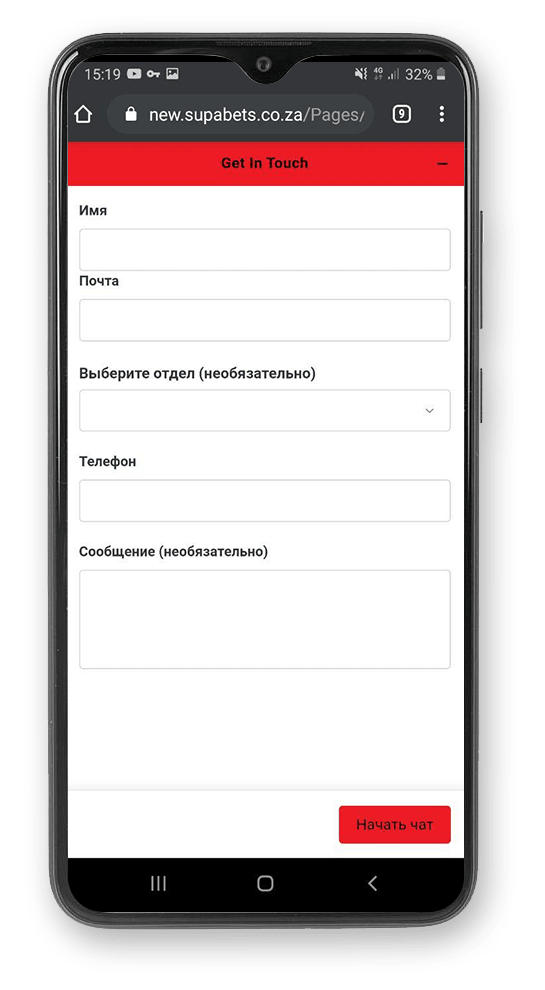 After a thorough overview of the Supabets mobile options, we must admit that mobile experience is quite limited yet still acceptable for personal amateur betting. While the mobile site versions were pretty satisfactory, the semi-real mobile app performed lots of glitches and freezes on various stages.
Advantages
Plain, straightforward design
Wide sports selection
Quick site performance
Limitations
Immature "mobile app"
Multiple application execution bugs
The New mobile site says "Version 1.0 – 2019 Copyright" and, paradoxically, brings some hope. It was just released and did not undergo a single update this year, as of June 2020.
We earnestly hope the Supabets South Africa will invest fresh energy in the mobile bookmaker soon!