Mobile application for LSbet
Considering LSbet mobile applications, optimised from the desktop site for their punters' convenience? Here, we'll be describing some of the application's major factors and its standout features.
Currently this bookmaker doesn't provide a mobile application for this platform
Currently this bookmaker doesn't provide a mobile application for this platform
Not available in your location
Try these bookmakers instead:
LSbet: Mobile guide and review for Android and iOS
If you're looking for the main LSbet review, you can find it here.
The LSbet mobile front is occupied by a very promising piece of handiwork from their developers, but there is definitely space to improve. This bookmaker has optimised its website in favour of punters who bet on the go, which is most likely a bid to compete with the other bookmakers out there.
Including some of the most important facts to know, we also take you through how to use their website, how to get support and more.
There is only one version available, however, which is a universally-accessible mobile website.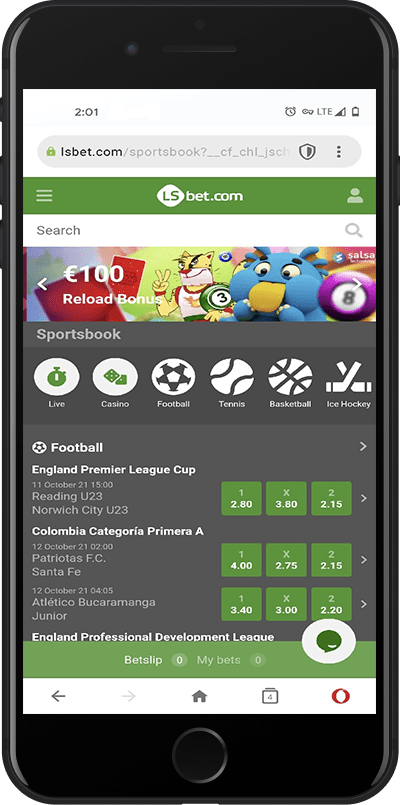 The first step to accessing an account is to register with LSbet, which will then allow you to login despite no LSbet app being available from the store. The mobile version can easily be accessed via the internet, without having to download any sort of file. On a positive note, this means you will be using much less storage without an LSbet app download.
Simply searching up LSbet or LSbet mobile website on your phone browser will help you reach the site, with less hassle than usual.
Sadly, there's no LSbet .apk available for LSbet Android, as there are no applications for this phone. We believe that if there was an application, it would really enhance the bookie's performance as many punters are now used to quicker access.
An LSbet .apk download would also help them to compete with much bigger bookmakers who offer applications for both platforms, not just as a typical website on a mobile browser.
There is no application for iOS Apple devices either, so we think that there would be a better competitive approach if the bookmaker did develop applications for each phone. Though there is the mobile site, this takes more time to access and can sometimes lag, slowing down the overall experience and usability.
Here, we would compare the advantages and disadvantages between the different versions available for LSbet, but as there are no applications apart from the mobile site we know that this is the only version.
Thankfully, it is faster than using via a desktop, though can still be prone to lagging. We think that developing phone-specific versions might eliminate some of this problem, which would also mean that it could be accessible from the home screen much faster rather than having to use your browser to locate the website.
This section will explain how usable the mobile application is, taking into account the colour scheme, speed, simplicity, and overall look of the application, which helps you put into place where it stands.
The results are very similar to desktop use, however, as there is no designated application for phones. Sometimes, therefore, lag may occur as it does on desktop, and some areas might take more time to load than others.
Logging in with LSbet will allow you to begin playing on mobile, giving you the premium punting experience you may be familiar with via desktop, but on the go. You can find the login option on the top right corner of the mobile site, which will open up a side menu giving you the option to login or register a new account.
In this same way, you can check whether you are logged in to your LSbet account or not, allowing you to have easy access to it whenever it happens to matter.
Fast access
You can access the website much more easily by just searching LSbet or LSbet mobile app on your mobile browser. Sadly, there is no way of making the site your home screen, which is another reason why we suggest a separate application will suit.
Step-by-step instructions
Find the login area - The top right-hand side of the website should have the icon that will take you straight to the login interface.
Make sure you have an account - Making sure you're already registered is the big part. If not, click on register rather than login, then create an account.
Input your details - Input your details into the text boxes provided by the login page, then click on the option to advance.
Confirm - Once you've input all of your details, then confirm your selections - if correct, it will take you forward to the betting interface.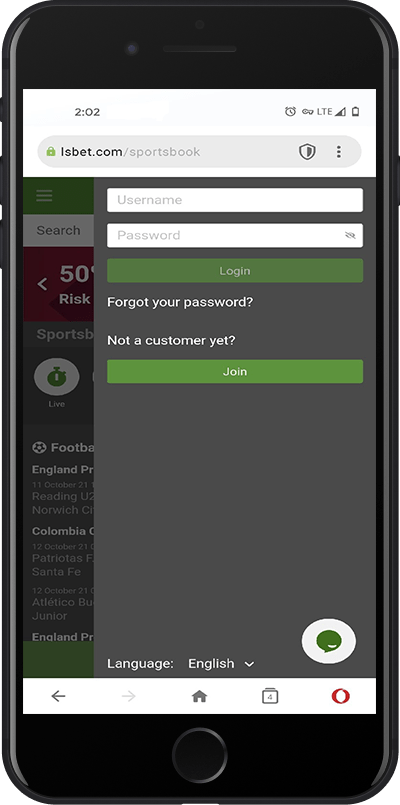 Full functionality and emphasis are placed on the fact that sports betting is available with LSbet's flexible mobile app. Football is one of the many sports you can find but the bookie has many others.
Football, basketball, the top leagues of many other sports, some of the more niche betting markets like Australian rules football, and even handball can all be enjoyed with LSbet.
Some of the best leagues in world sport are offered within LSbet mobile, but you can also check out some of the less popular leagues, which sometimes have more enticing odds.
Desktop and mobile sites are both similar in this way, as they display their betting controls in a familiar manner.
| | |
| --- | --- |
| 📲 Available platforms | Web |
| 🔴 Live betting | ✔️ |
| 💳 Mobile deposits | ✔️ |
| ✨ Mobile withdrawals | ✔️ |
| ℹ️ Mobile support | Phone, e-mail, live chat |
| 🎁 Mobile offer | ❌ |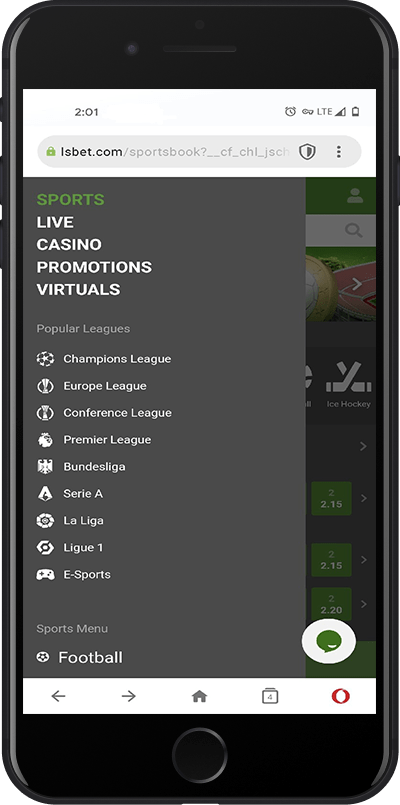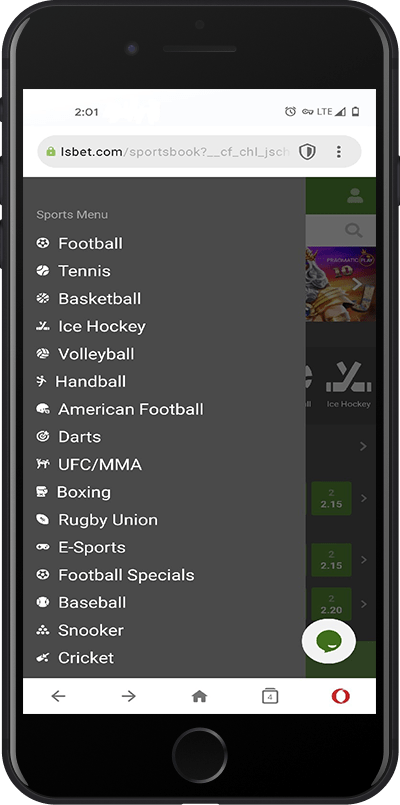 Live betting, as explained, is fully available on the mobile web app of LSbet! You can check your matches whenever you want, allowing you to have full control over how to bet. Rather than playing pre-match, live betting will give you the cutting-edge advantage of being able to consider statistics and predict what is happening.
Live Streams for selected games are also shown, as long as you have an account with the bookmaker.
Withdrawal and deposits are available and convenient on either website or mobile. Allowing you to easily insert or withdraw your winnings or funds for use in your betting endeavours.
Some of the more popular methods can be found, such as Mastercard, which is available with the majority of bookmakers.
Plus, LSbet is on a long list of bookies that can also be enjoyed with e-wallets such as PayPal.
There are a few very good selections for LSbet's deposit and withdrawal systems, allowing you to have a flexible time when it comes to transferring your cash. The times and limitations are unchanged from the desktop site, so refer to that if you need to.
The best idea is to pick the same method for withdrawals and deposits, as this will give you a much easier time to keep track of how much cash you've put in and withdrawn.
Minimum limits are usually 10 Euros, whilst the majority of maximum limitations go up to 10,000 Euros. There is an instant timeframe for the deposits, whilst the withdrawals will take up to one hour with the same limits applying.
You can find the support part of the website within the 'Contact us' section, which will take you to a directory of different ways you can get in touch with LSbet staff. One of the best methods, however, is the 24-hour live chat, which will connect you with an employee in the fastest way possible.
Though there are emails and phone numbers available, these take a little while longer for replies but are still robust sources of support.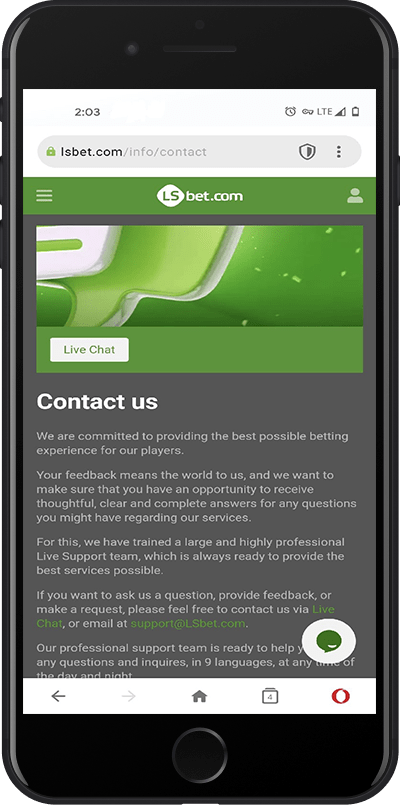 We think that the LSbet mobile app definitely has room for improvement and shows potential in areas that it needs to grow. The highlight is the great sports selections and the versatile sports betting options.
Our perspective is that the development of two separate applications for iOS and Android are called for, rather than having just one universal mobile app. The usability is also quality but has been limited by the browser-use on mobile, which can sometimes lag.
Advantages
Easily accessible
Easy to register
Simple interface for new users
Limitations
No apple/android-specific applications
Can be slow
LSbet as a whole is actually a positive prospect. The bookmaker has done well when it comes to supplementing punters with an on-the-go application.