Campeonbet mobile app
Campeonbet is a betting app that specializes in sports, casino, and live casino gambling, and we're going to show you just how to download Campeonbet app. Following a recent surge of interest in the Campeonbet mobile site we wanted to review the platform. The result is an impartial, honest, and reliable report on the benefits of betting at Campeonbet.
Not available in your location
Try these bookmakers instead:
Our team boasts many years of experience reviewing the leading names in the gambling industry as well as the best of the emerging talent. In that time we've seen most things the industry has to offer but the Campeonbet mobile website gave us a pleasant surprise. There's plenty going on here and more than enough to say this app merits your interest.

Below we take you through all important sections of the service, including how to get the app, the sports markets and odds offered, the secure payments, usability and much more. By the end of this article you should have a full understanding of what they are good at as well as how you can use Campeonbet to target a profit from your gambles.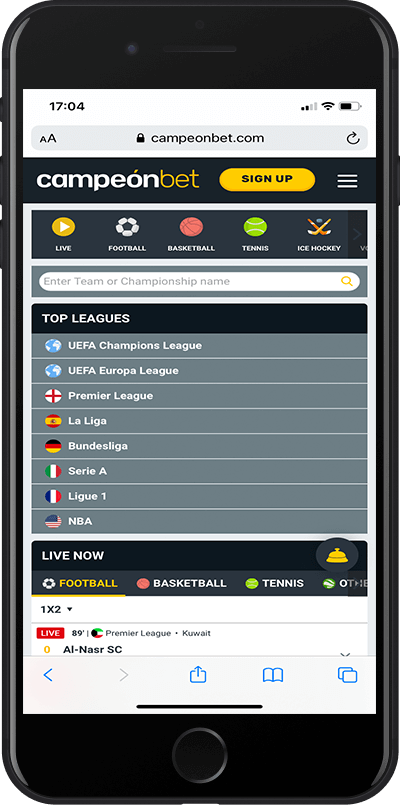 The Campeonbet application can be downloaded to most Android and IOS devices in just a few clicks. You need only download the app once to each device you wish to use it on and from there you will always be just a click away from an exciting sports bet.

Never again will you miss an opportunity to bet on your favourite sport or team. Turn everyday situations into an excuse to gamble on and watch live sport. Regardless of if you download the Campeonbet app for Android or the IOS version, you will enjoy the same user-friendly service. Both apps share identical odds, sports, and features.
You can get Campeonbet for Android in seconds by following the below steps:
Open the web browser on your device and enter the Campeonbet URL
Click the homepage link to download the Campeonbet mobile app
Open Security > Settings on your handset
Click the box which allows downloads from unknown sources
Open your downloads folder and tap the Campeonbet .apk file
Your device will download and install the new app

You can get the Campeonbet app for IOS just as easily as above, but the process is slightly different to installing the Campeonbet mobile app on Android. Here's how to do it:
Open the App Store on your device
Type Campeonbet mobile apps into your search bar
Choose the sportsbook version and click 'Get'
The app will download and install automatically
You can now use the Campeonbet app for iPhone, iPad or your chosen IOS device

As well as the ability to download the Campeon app for Android or IOS, there's also an option to use the mobile version of the site. This has all the same sports betting features as you'll find on the app and is just as secure, but there's one main difference. Users of the mobile site aren't required to download anything to their device.
This makes it an attractive option for bettors who are tight on storage space on their device. It's a very modern problem but often mobile users must delete apps before they can add new ones. The Campeonbet mobile app is free but you don't need to download it to gamble.

Simply type the Campeonbet URL into your device's web browser then login to your account. You can then deposit funds, withdraw winnings, update details, bet on sports and even take advantage of the many promotions available. When you are finished using all you do is log out then exit the page. This can be done on Campeonbet for Android or IOS.
In which countries is the Campeonbet app available?
The app for Campeonbet can be used across the world, but you should be aware that online betting by any method is prohibited in some nations. You should check the rules in your area before attempting to gamble using the app. Even if sports betting is legal in your home country it may not be when travelling or on holiday.

One way to check if betting is allowed is to enable the geolocation settings on your device. If you are in an area where betting is banned the app shouldn't allow you to access sports betting and place gambles. Just to be on the safe side, however, please study the laws regarding online betting.

You will find these in the terms and conditions page of the Campeonbet apps.

Both versions of the Campeonbet app for mobile are easy to use, fast, responsive, stylish, and secure. You will find homepage quick links to the most popular sports of the day or can browse the different sports and markets on the navigation bar.

Regardless of your experience using similar betting apps you'll find this one easy to use. Below is an example of functions available to app users

The process of logging in on Android is slightly different to IOS but both are easy to use. To access your Campeonbet account on Android you should open the app and click the three horizontal lines on the homepage. Enter your username and password. If you have logged in successfully you will see your username in the top corner.

When using an IOS device to login to your account simply click the LOGIN button then enter your username and password. Click to confirm and you will be logged into your account. Click your username to access all member benefits.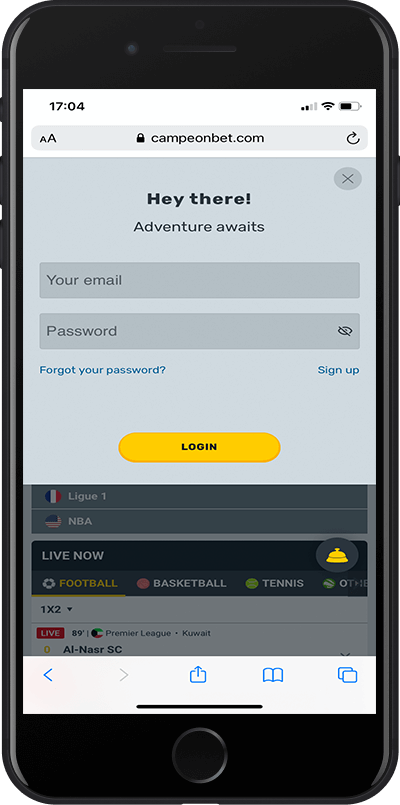 The most popular sporting events of the day usually have homepage quick links. This speeds up the process of betting on events like the next horse race due off or the evening's live football. Perfect if you are betting in a rush or pushed for time before the off.

If you have a little more time on your hands you can browse the navigation bar. There you'll find all available sports. Click the one that catches your eye to view a full list of competitions and fixtures. Bet on the outright winner or competitions or a fixture. For example, every football match from the major European leagues has over 100 markets attached. Click to add to your bet slip, input a stake and confirm.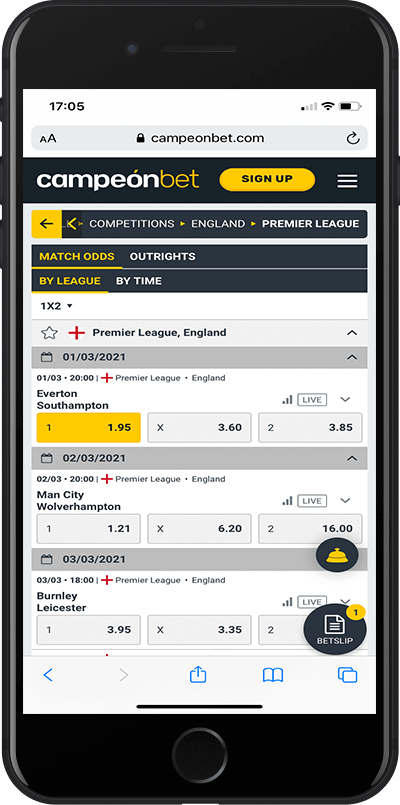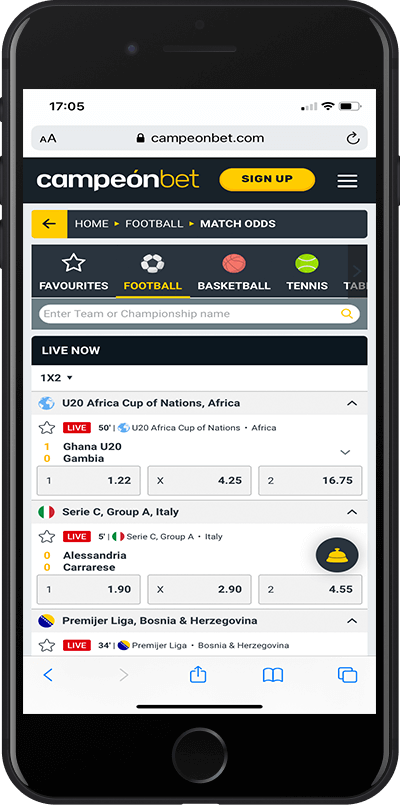 Campeonbet offer new customers a generous welcome bonus of up to $150 in free bets. This is a 150% bonus, so the free bet will be one and a half times more than your first deposit and sports bet. If you deposit and bet $20 on sports, you'll receive a $50 free bet. This promotion is capped at $150. There is also a free bet bonus for casino players.
You have options when it comes to depositing and withdrawing funds to your Campeonbet. You can add several different payment options including debit card and ewallet services. Regardless of the payment method chosen you will benefit from strict security measures.

Campeonbet uses Secure Socket Layer technology which protects your sensitive information from online attacks. You can deposit funds and withdraw winnings with complete peace of mind.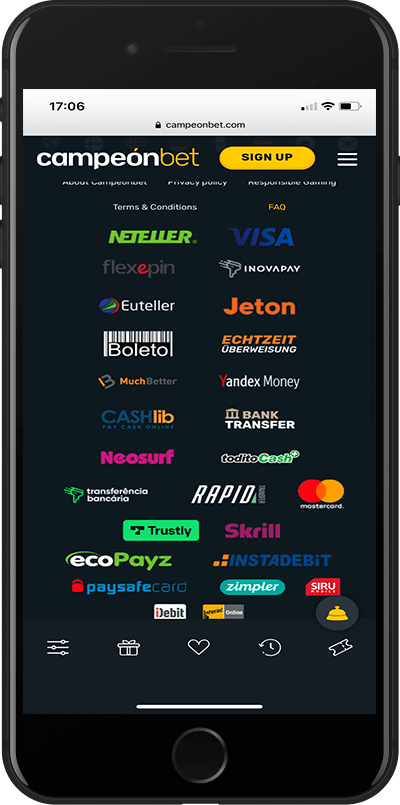 Deposit methods
Below you'll find details on some of the deposit methods available at Campeonbet
| Payment Method | Deposit Minimum | Deposit maximum | Time for Deposit |
| --- | --- | --- | --- |
| VISA | $20 | N/A | Instant |
| MasterCard | $20 | N/A | Instant |
| Neteller | $25 | N/A | Instant |
| Skrill | $25 | N/A | Instant |
Withdrawal methods
Below you'll find details on some of the withdrawal methods available at Campeonbet
| Payment Method | Withdrawal Minimum | Withdrawal maximum | Time for Withdrawal |
| --- | --- | --- | --- |
| VISA | $10 | $2,300 | 3-5 days |
| MasterCard | $10 | $2,300 | 3-5 days |
| Neteller | $10 | $2,300 | 24 hours |
| Skrill | $10 | $2,300 | 24 hours |
The Campeonbet betting app has been kept simple and easy to use. This helps speed up the process of placing bets, but it also minimizes the need to contact the customer services team due to user error.

If you do ever have an issue with the Campeonbet site your first point of contact should be the frequently asked questions page. This is a list of possible questions with useful answers attached. If you'd prefer to speak to a member of staff you can do so by email, telephone, or live chat. The customer care team is friendly and happy to help.
The app is user-friendly, fast and responsive. You can use the app to register for an account quickly, access the welcome bonus and bet on sports. The app is designed to speed up the process of placing bets on sport. There are homepage quick links to the standout fixtures of the day and you can wager on live football or the next horse race due off in a single click.
Advantages
Excellent welcome bonus on sports and casino
Lots of sports to bet on and exciting markets
User-friendly app
Secure payment options
Limitations
Restricted areas
Doesn't accept Bitcoin
With the Campeonbet app downloaded to your device you can transform everyday situations into a thrilling sports betting experience.