Can Luis Enrique lead PSG to Champions League glory?
When Sheikh Tamim bin Hamad Al Thani, the Emir of Qatar, bought PSG in 2011 through Qatar Sports Investment, it was clear that he was ready to build one of the best teams in the world. Before the takeover, PSG had a poor silverware collection. They only had two French league titles, one Cup Winner's Cup, and a few national cup trophies.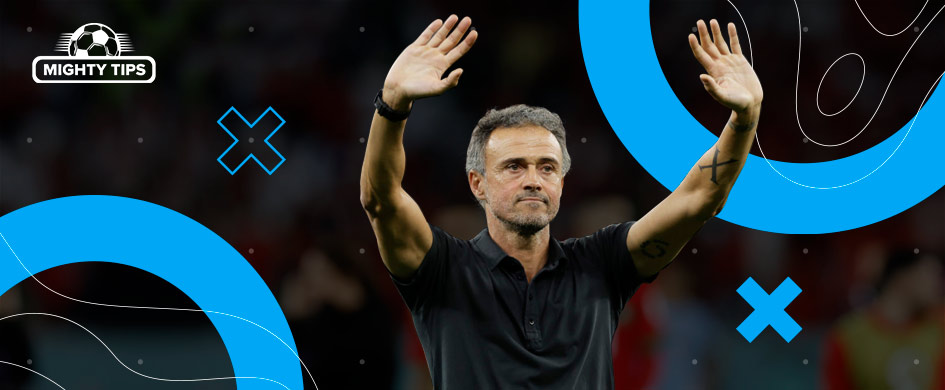 PSG's struggle for the Champions League trophy
With the new wealthy owners came almost unlimited resources, so it is no wonder that the club from the French capital evolved into the absolute leader in the national league, lifting nine Ligue 1 titles in the next 11 seasons. Even so, PSG are still without the most desired trophy of the Champions League. They came closest in the 2019/2020 season when PSG lost in the final 1-0 against Bayern Munich, in Lisbon. In the 2022/23 season, PSG won another Ligue 1 title, but came only one point ahead of Lens. In the Champions League, they were held back in the quarter final when Bayern Munich thrashed them 5-0 on aggregate score.
Luis Enrique is the new PSG head coach
After another unsuccessful season, PSG decided to change the head coach again. After the sacking of Christophe Galtier, the French media speculated for weeks about a possible solution for the most prestigious job in French football. Eventually, a few weeks ago, PSG appointed Luis Enrique, the Spaniard who won the Champions League trophy with Barcelona in 2014/2015.
Although Luis Enrique is only 53 years old, he has already accomplished more than most coaches in their careers. Most of his successes came in three years at Barcelona when Luis Enrique won everything he could win in those years. His early success indicated that the Spaniard could become one of the best head coaches for the next decade or two.
Luis Enrique trophies as a head coach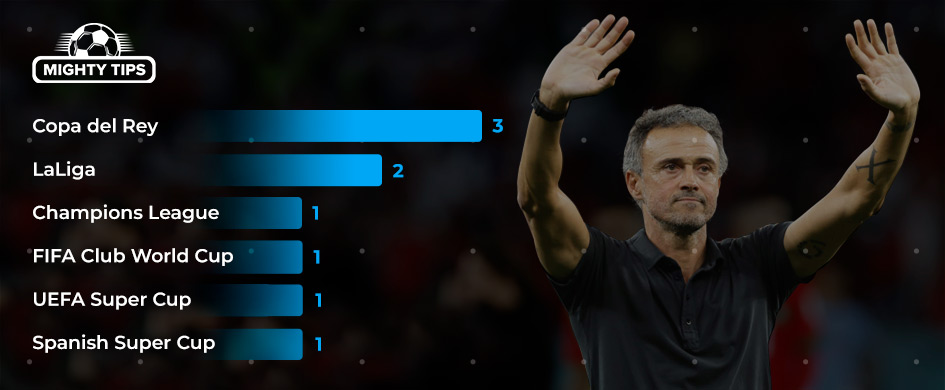 After joining PSG, in one interview, Luis Enrique also said,
My aim is for Paris Saint-Germain fans to be proud of their team, to be proud of what they see on the pitch, and to enjoy the spectacle. And they will appreciate it if they see effort, hard work, a team that attacks well and defends well, a team that plays together as a united group. If they like that, and I'm sure they do, then they'll be proud of their team.
What could we expect from PSG for the next season?
There are many speculations about which players Luis Enrique will have in the squad for the next season. The most significant question is, of course, about Kylian Mbappe's future. His current contract expires next summer, so the board has given Mbappe two options: extend his current contract or leave this summer. PSG has already signed a few interesting players during this transfer window, but everything could change if Mbappe decides to leave.
Now comes the question of what we can expect from Luis Enrique's PSG. He will probably play with his preferred 4-3-3 formation. Still, during his years at Barcelona, Luis Enrique often experimented with a 3-4-3 and 3-4-2-1. The biggest change should be in defense. Luis Enrique tends to press the opposition constantly. Of course, that is difficult to maintain for the whole game at full intensity, but Luis Enrique is usually very demanding, so PSG players must adapt.
With Luis Enrique in charge, PSG is entering a new stage. The club from the French capital has had some more prominent managers in the past, but his personality and attitude are unmatched and maybe that is something PSG has lacked in previous years.