Can Christopher Nkunku prosper at Chelsea?
The 2022/23 season was Chelsea's worst in the last 30 years. They changed three managers but still finished 12th in the table. About one month ago, the board appointed Mauricio Pochettino as the new head coach. It was clear that the Argentinian would make many changes in the squad and one of the first moves was the signing of Christopher Nkunku.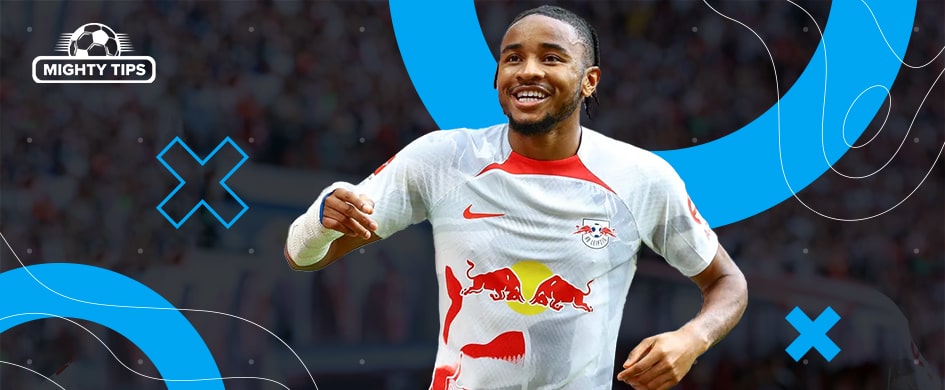 Who is Christopher Nkunku?
Christopher Nkunku came out of the PSG Academy but never got the right opportunity in the French capital. Of course, Kylian Mbappe and Neymar were ahead of the youngster, so Nkunku made 78 PSG appearances and scored only 11 goals in four seasons.
Christopher Nkunku's career stats by club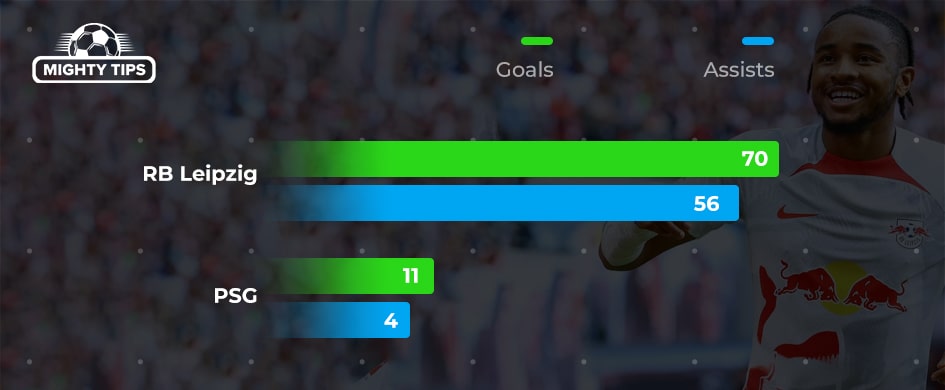 After four years of stagnation at PSG, it was time for a change. In the summer of 2019, Christopher Nkunku moved to RB Leipzig for €13 million. That move completely changed Nkunku's career. During four seasons at the Bundesliga side, he scored 70 goals and made 56 assists, propelling his career to become placed among Europe's best forwards. His progress didn't go unnoticed as he has become a regular target of transfer talks in recent weeks. Finally, Chelsea offered £53 million, which RB Leipzig couldn't refuse.
Christopher Nkunku's major titles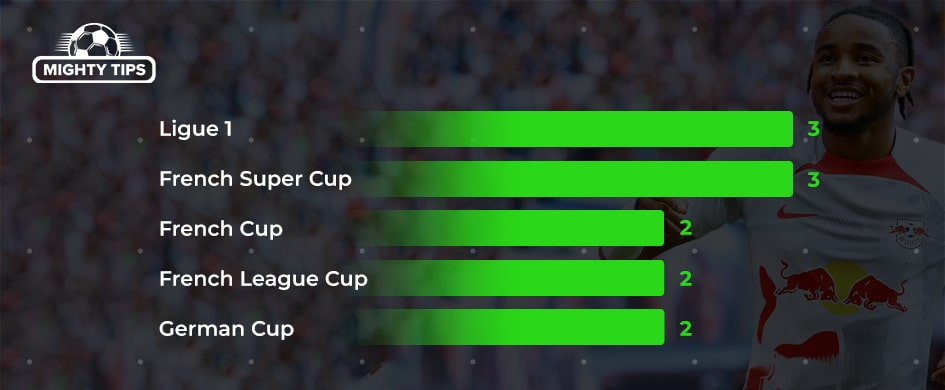 Christopher Nkunku's reaction after joining Chelsea
After agreeing to a contract with Chelsea, Christopher Nkunku said,
I am incredibly happy to be joining Chelsea. A big effort was made to bring me to the club, and I am looking forward to meeting my new coach and teammates and showing the Chelsea supporters what I can do on the pitch. Having played in Ligue 1 and the Bundesliga, I now want to play in the Premier League; one of the strongest leagues in the world. I am very excited about this challenge and will be proud to wear the Chelsea shirt.
Nkunku's style of play
Christopher Nkunku arrived at RB Leipzig as a left winger but, after a few seasons in the Bundesliga side, he started playing more as a lone striker or in a second striker role. Nkunku's versatility will give Chelsea more options upfront. His best attributes were always dribbling and quickness but, after getting more opportunities to play as a second striker, Nkunku developed his passing, vision, and chance-creation. Playing in the Premier League, arguably the best football competition on the planet, should further develop Nkunku's game.
There are almost two months until the Premier League starts and Christopher Nkunku's transfer is surely not the only one that Chelsea will make, but we now have a glance at what the team could look like in the next season. The Blues had so many problems with scoring goals last season, so the transfer of Nkunku should improve their creating and finishing of goal-scoring opportunities. His transfer could also mean that Chelsea have lost all their faith in Mykhaylo Mudryk, whom they paid €70 million for last winter. The Ukrainian finished the previous season without scoring goals in 15 Premier League matches, so we should expect Nkunku to get to chance instead of the disastrous Mudryk.
Christopher Nkunku made the right decision to move to RB Leipzig in 2019. Chelsea fans will be hoping his move to London will be equally beneficial and he will help return The Blues to their glorious days.