Amad Diallo will try his luck to impress Erik ten Hag
The thrill, excitement, passion, devotion. These are elements of every Championship season and the main reason we all like the second level of English football. Another reason is that many future Premier League stars are in the competition. In the 2022/23 season, one name stood out from among the others – Amad Diallo.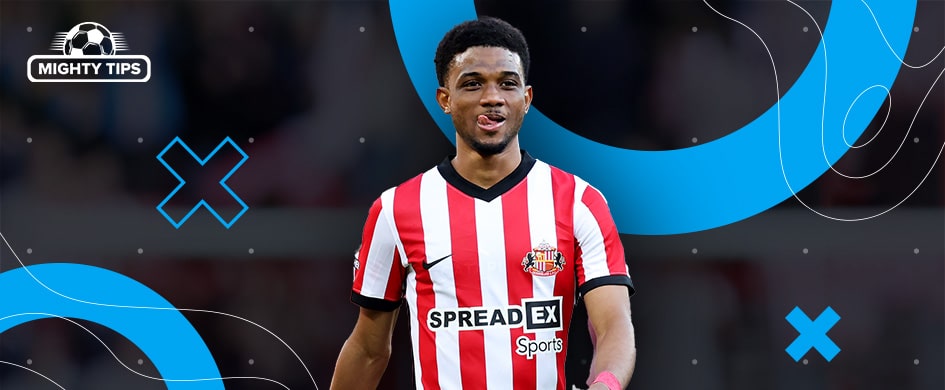 Amad Diallo's road to Sunderland
The player that came from the Atalanta youth academy arrived at Manchester United in January 2021 for more than 20 million euros. Although Amad Diallo came to Old Trafford as a potential future star, he never got an opportunity to show his worth. Since 2021, the youngster has appeared in only nine matches for the Red Devils. In the meantime, he spent six months on loan at Rangers but played in only ten games there.
Amad Diallo was brilliant at Sunderland
Everything changed for Amad Diallo in the summer of 2022 when he moved on a one-season loan spell to Sunderland. The 20-year-old Diallo led Sunderland to a surprising playoff position. He finished the regular season with 13 goals and three assists in 37 league matches. Additionally, Diallo scored one more goal in the playoff match-up against Luton. Sunderland failed to win promotion, but a brilliant season made scouts turn their heads towards the kid born in Abidjan, Ivory Coast.
Amad Diallo Carrer stats by club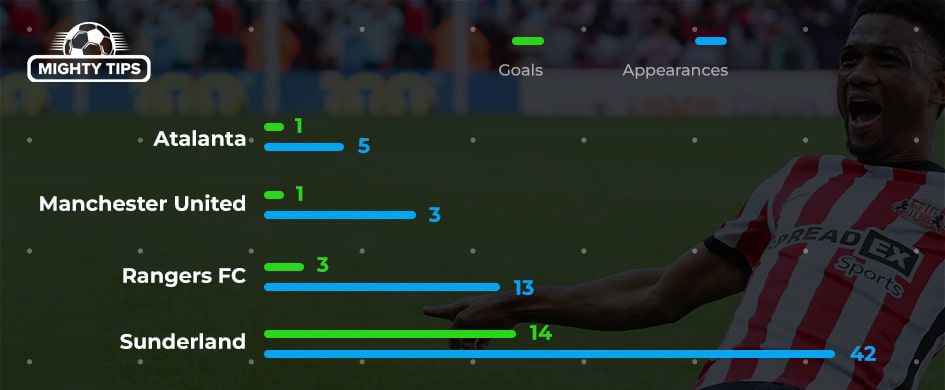 What does the future bring for Amad Diallo?
Amad Diallo has an existing contract at Manchester United until June 2025, but it is unclear if he will get an opportunity in Erik ten Hag's team. Manchester United have Antony and Jadon Sancho as wingers, but neither of them failed to impress in the 2022/23 season.
Winger statistics in the season 2022/23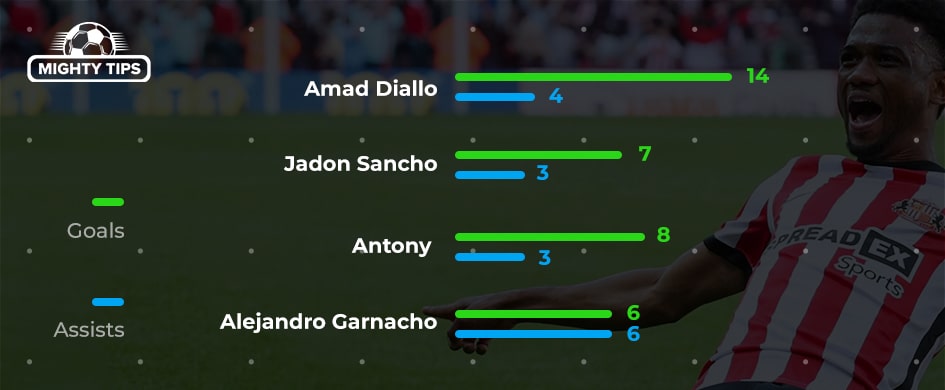 Nevertheless, the most realistic option for Amad Diallo is to join Manchester United during pre-season and show that he deserves a place at Old Trafford. If he doesn't fit into ten Hag's plans, numerous clubs will be lining up to sign the young star.
Feyenoord has already been mentioned as the potential destination for Amad Diallo. The Dutch champions haven't made official contact with Manchester United, but they seem very interested in bringing a youngster to De Kuip. Actually, Feyenoord were close to bringing him on loan in the summer of 2021, but thigh problems messed up the transfer that was close to confirmation.
Sunderland is another option. After a phenomenal 2022/23 season, he could return to the club where he made a special connection with Black Cat's fans. After the loss in the playoffs, Amad Diallo posted a message on Twitter:
One day we will meet again.
The player also revealed his conditions for returning in the next season, which is that head coach Tony Mowbray stays. Mowbray's future is in doubt after he failed to win the promotion through the playoffs, but Amad Diallo is enjoying playing for the head coach, and it seems that he would return gladly if Manchester United doesn't count on him.
It is hard to say where Amad Diallo will spend the following season, but he certainly is one of the most intriguing young players right now, so we should hear much more from him in the upcoming years.