Betboom Sportsbook Review in 2023
Advantages:
Extensive coverage of diverse markets

The most competitive odds

Availability on both iOS and Android platforms

Remarkable bonuses for new users
Payment Methods:
Betboom is a well-known online betting platform that was founded in 2009. Like many top bookmakers, it has gained popularity among users for its extensive live betting options on a wide range of sports and events. This form of betting, commonly referred to as "in-play betting," enables users to place bets while a match or event is in progress, as opposed to placing bets before it begins.
The bookmaker offers live betting opportunities on various sports like basketball, football, tennis, and more. Users can engage in betting on different outcomes throughout the event, including predicting the final score, identifying the next goal scorer, or forecasting the outcome of the upcoming play.
Types of live games at Betboom
At Betboom, you can immerse yourself in a diverse selection of live games, all accessible from the convenience of your own home. Here are some of the well-liked categories:
Football
Basketball
Tennis
Ice-Hockey
Volleyball
Here at Mightytips we have collected valuable information about Betboom and its offerings. It provides additional insights and details that can enhance your understanding and experience with the platform.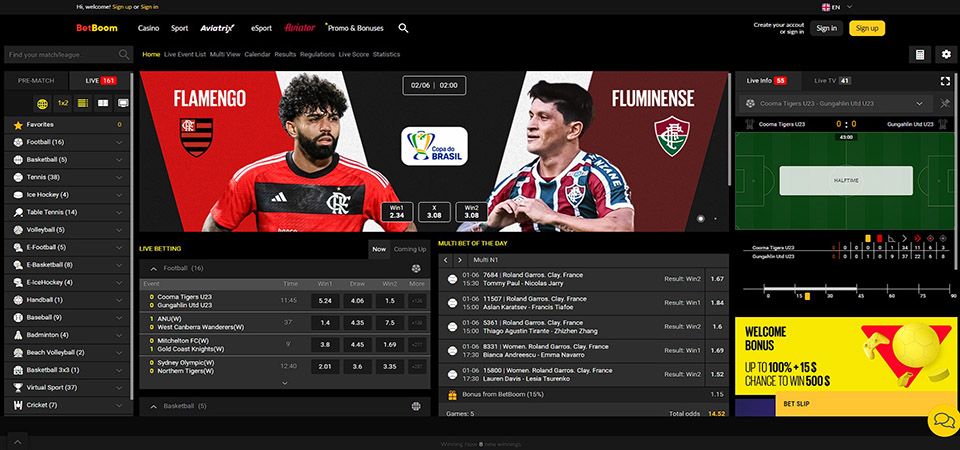 The casino presents an array of games, encompassing slot machines, table games, lotteries, and live casino. You can explore an extensive selection of titles with various themes and formats, such as classic video slots and progressive jackpots.
For table game enthusiasts, a variety of options awaits, including blackjack, baccarat, poker, roulette, and more. Additionally, the casino provides a live casino section where players can indulge in live entertainment. The games are hosted by real dealers, delivering an immersive gaming experience for those who appreciate top-quality slots and enticing bonuses.
Blackjack
Within the website, you will discover a plethora of captivating options when it comes to live blackjack. These games are streamed in real time, providing an authentic casino experience. What sets them apart is the ability for players to engage in interactions with both the live dealers and fellow participants at the table through the integrated chat function.
Roulette
Enthusiasts of roulette will have a lot of options to indulge in their love for this popular game. Live roulette offers numerous variations, providing a diverse and exciting experience. The objective of engaging in live roulette is to accurately predict the final resting place of the ball as it comes to a halt on the spinning wheel.
To participate, players can place a variety of bets, offering flexibility and multiple winning possibilities. These bets include predicting a specific number, wagering on a range of numbers, or choosing the color of the number (red or black). Once all bets have been placed, the dealer initiates the spin of the wheel, skillfully releasing the ball onto the spinning surface.
Baccarat
Within the designated section, gamblers can find an array of options to enjoy the game of baccarat. In the live baccarat games, players have the opportunity to place bets on either the player's hand, the banker's hand, or a tie outcome. The rules of the game, including the card dealing process, will be elucidated by the dealer at the commencement of the game.
Slots
At Betboom casino, a player can delve into an extensive array of online slots meticulously curated from renowned game providers. This ensures a diverse selection, allowing gamblers to find their preferred options effortlessly. The slot collection encompasses an assortment of offerings, ranging from classic games to captivating video slots and jackpot games. Each slot boasts distinct themes, features, and gameplay mechanics to cater to diverse preferences.
While indulging in the online slots at Betboom casino, players can relish various features and bonuses that enhance the overall gaming experience. These enticing additions include free spins, multipliers, and bonus rounds, which inject an extra dose of excitement into gameplay. Not only do these features amplify the enjoyment factor, but they also augment the potential for significant winnings.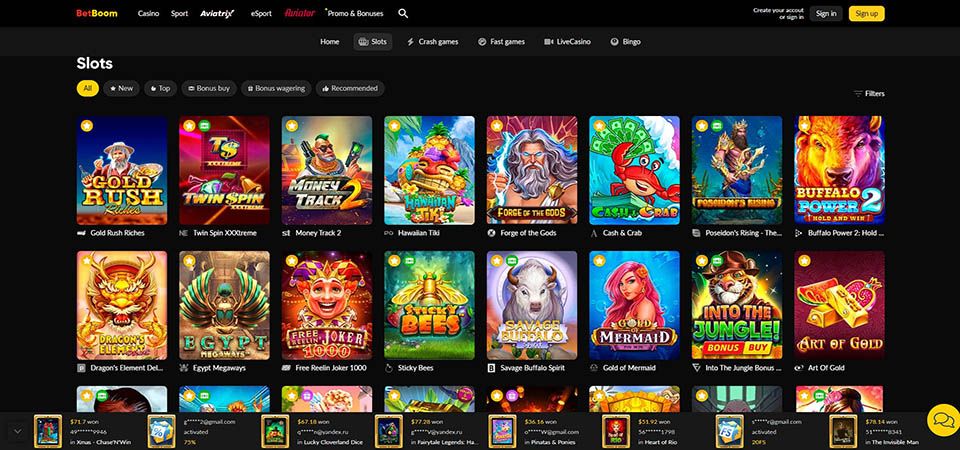 Betboom bonuses & promotions
Betboom players are treated to a wide array of bonuses and promotions designed to enhance their gaming experience. These offerings encompass a variety of enticing incentives, such as welcome bonuses, reload bonuses, and cashback offers, among others. These bonuses serve as a means to reward players and provide them with additional opportunities to maximize their winnings. By the way, don't forget that all bonuses sportsbooks offer can be found on our website.
Welcome Bonus Up To 500 USD
The Betboom offers an enticing welcome bonus to new users, providing them with an opportunity to boost their initial deposits. With a maximum payout of up to 500 USD, the welcome bonus structure is designed to cater to different deposit amounts.
For deposits ranging from 5 USD to 19.99 USD, users can benefit from a 75% bonus. On the other hand, deposits ranging from 20 USD to 500 USD qualify for a generous 100% bonus. This means that users will receive a bonus amount equivalent to their deposited funds, effectively doubling their initial balance.
Furthermore, alongside the deposit bonus, bettors are also rewarded with a free bet for deposits between 5 USD and 19.99 USD. This free bet amount is set at 5 USD, providing an additional opportunity to place wagers without risking their own funds.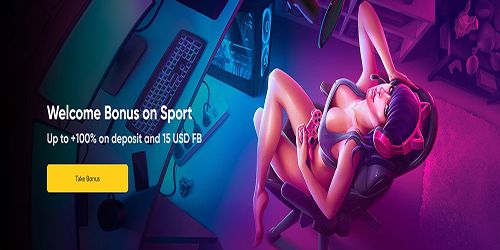 Weekly Cashback
Betboom offers a Weekly Cashback program that rewards players for their loyalty and gameplay. This enticing feature allows players to receive a percentage of their bets back as cashback, providing an extra layer of value to their overall experience.
The percentage of cashback is determined based on the player's level within the platform. As players progress and reach higher levels, the cashback percentage increases, providing enhanced benefits. For instance, players at Level 1-10 can enjoy a 5% cashback, while those at Level 81-100 are eligible for an 8% cashback.
Reload Bonus
Betboom's Reload Bonus is an enticing promotion that offers players the opportunity to boost their deposits every week. With a generous 100% deposit bonus, players can enjoy increased funds to enhance their betting balance.
To take advantage of this bonus, players are required to make a minimum of three deposits within a week. By meeting this requirement, they become eligible for the 100% deposit bonus, which effectively doubles their deposited amount.
Betboom prides itself on offering highly competitive odds and margins across a diverse range of sports and casino games. The platform employs a sophisticated algorithm that accurately calculates the odds, ensuring that they reflect the true probability of an event occurring.
In the realm of sports betting, Betboom covers an extensive array of sports, encompassing both popular events such as volleyball, football, and tennis, as well as niche sports like table tennis, ice-hockey, and MMA. The odds for each event are continuously updated in real-time, allowing players to seize the most favorable conditions when placing their bets.
The margin represents the profit that bookmakers earn on each wager. While this indicator can vary depending on the specific match and odds, Betboom's margins generally remain highly competitive compared to other online casinos and bookmakers.
Remember that margins can differ based on the event and the specific type of bet being placed. Some wagers may carry a higher margin than others, underscoring the significance of checking the odds and margin before finalizing a bet. By staying informed about the odds and margins, players can make more informed betting decisions that align with their preferences and strategies.
Betting margin
Football

1.43%

Basketball

4.25%

Hockey

2.29%

Tennis

1.36%

Baseball

2.63%

Volleyball

1.59%

MMA

1.29%

Handball

5.69%

Cricket

2.21%

eSports

3.25%

Boxing

4.7%

Rugby

1.67%
Overall betting margin: 2.7%
Betboom caters to mobile users with dedicated applications tailored for both Android and iOS devices. These apps can be easily obtained free of charge through the respective app stores. By utilizing these mobile apps, players can gain access to the complete range of sports betting and casino games offered by Betboom, encompassing slots, live titles and an extensive selection of sports betting markets.
The mobile apps have been optimized to deliver a seamless and user-friendly experience on mobile devices. Navigating through the apps is effortless, facilitated by intuitive menus and swift access to popular game titles and betting markets. Furthermore, the mobile apps offer an array of notable features, including live streaming of sports events, real-time odds updates, bonuses, and in-play betting options.
A primary advantage of utilizing the Betboom mobile apps is the convenience they provide. Players can conveniently place bets and engage in slot games while on the move, regardless of their location or the time of day. Additionally, the mobile apps enable bettors to manage their accounts, conduct deposits and withdrawals, and access customer support services, all from the palm of their hand.
Android app: yes
iOS app: yes
You can play in the iPhone App

iPhone App
More
You can play in the Android App

Android App
More
You can play in the Mobile Browser

Mobile Browser
More
You can play in the Opera Mini

Opera Mini
More
Betboom Usability & features
Betboom prides itself on being a user-friendly and feature-rich online betting platform. The website boasts a visually appealing design, characterized by its vibrant, sleek, and contemporary layout, which contributes to a seamless user experience. Navigating the site is a breeze, with the menu conveniently positioned at the top of the page, allowing players to effortlessly switch between different sections such as sports betting, casino games, and promotions. Furthermore, Betboom caters to a diverse audience by offering multiple language options, including English, Portuguese, and Spanish, ensuring accessibility for a wide range of players.
The sportsbook at Betboom provides customers with a variety of payment methods to choose from, ensuring convenient transactions. Users can opt for traditional options like bank transfers and credit/debit cards, or explore the realm of cryptocurrencies and e-wallets for added flexibility. In addition to its user-friendly interface and comprehensive payment options, Betboom distinguishes itself through its dedicated customer support team, available 24/7. Players can seek assistance through multiple channels, including live chat, email, and phone.
Not available in some countries
Betboom: Sports to bet on
Betboom presents an extensive array of sports betting markets that cater to the diverse interests and preferences of most bettors. The platform also excels in live betting, allowing gamers to place bets on their favorite sports as the matches unfold, adding an extra layer of excitement and engagement to the betting experience.
Among the sports covered by Betboom, football takes center stage, enjoying immense popularity in the regions where the bookmaker operates. Betboom offers a comprehensive selection of betting markets for top football leagues and tournaments from around the world, including renowned competitions such as the English Premier League, La Liga, and the UEFA Champions League. To enhance your football betting journey, be sure to explore the predictions football provided by experienced industry experts, which can offer valuable insights.
Moreover, Betboom caters to the interests of local players by offering bets on various sports, including basketball, esports, ice hockey, and other captivating events. The breadth of betting lines at Betboom may vary depending on the sport's popularity and the significance of the event. For major sports events like cricket matches, football matches, and tennis tournaments, Betboom provides an extensive range of betting options and markets. These include popular choices such as selecting the match winner, predicting over/under outcomes, and engaging in handicap betting, among others.
Betboom Popular Types of Bets
Betboom offers lots of sports to bet on, including:
In summary, Betboom stands out with its competitive betting lines and odds, covering an extensive selection of sports.
Betboom has established itself as a reliable and trustworthy online bookmaker, offering a secure and fair betting environment to its users. The company holds a license issued by Curacao, a respected regulatory authority in the online gambling industry. This licensing ensures that Betboom operates in compliance with industry standards and regulations, providing reassurance to customers.
One of the key aspects that contribute to Betboom's reliability is its commitment to the security of user data. The website employs the latest encryption technology to safeguard sensitive information and transaction details. This advanced encryption ensures that all data transmitted between the user's device and the Betboom servers remains encrypted and protected from unauthorized access.
Payment methods: Betboom deposits & withdrawals
Deposits
The platform presents a diverse selection of payment methods to cater to the needs and preferences of its users. These options include popular choices like PIX, Monetix, Visa, MasterCard, Ecopayz, Webmoney, Neteller, Muchbetter, and Jeton. Additionally, casino customers have the unique opportunity to engage in transactions using cryptocurrencies, further expanding the range of payment options available.
Withdrawals
Users have the convenience of withdrawing their winnings through the same payment systems they utilized for making deposits. The minimum withdrawal amount is set at 3 USD, ensuring that users can access their funds without unnecessary limitations. Moreover, there are no restrictions on withdrawal limits, allowing users the freedom to withdraw their winnings as much as they desire, without any imposed caps.
| | | |
| --- | --- | --- |
| $30–$5,000 | Instant | 0% |
| $30–$5,000 | Instant | 0% |
| $5–$1,000 | Instant | 0% |
| $3–$1,000 | Instant | 0% |
| $3–$1,000 | Instant | 0% |
| $5–$15,000 | Instant | 0% |
| $5–$15,000 | Instant | 0% |
| $5–$5,000 | Instant | 0% |
| $35–$15,000 | Instant | 0% |
| $5–$15,000 | Instant | 0% |
| $5–$15,000 | Instant | 0% |
| $5–$15,000 | Instant | 0% |
| $5–$15,000 | Instant | 0% |
| $5–$15,000 | Instant | 0% |
| $5–$15,000 | Instant | 0% |
| | | |
| --- | --- | --- |
| $30–$5,000 | Up to 1-3 days | 0% |
| $30–$5,000 | Up to 1-3 days | 0% |
| $5–$1,000 | Up to 24 hours | 0% |
| $3–$1,000 | Up to 24 hours | 0% |
| $3–$1,000 | Up to 24 hours | 0% |
| $5–$15,000 | Up to 1 hour | 0% |
| $5–$15,000 | Up to 1 hour | 0% |
| $5–$5,000 | Up to 1 hour | 0% |
| $35–$15,000 | Up to 1 hour | 0% |
| $5–$15,000 | Up to 1 hour | 0% |
| $5–$15,000 | Up to 1 hour | 0% |
| $5–$15,000 | Up to 1 hour | 0% |
| $5–$15,000 | Up to 1 hour | 0% |
| $5–$15,000 | Up to 1 hour | 0% |
| $5–$15,000 | Up to 1 hour | 0% |
The bookmaker's support team is not only responsive but also highly knowledgeable, ensuring that they can assist you with any inquiries or concerns you may have. To facilitate seamless communication, Betboom offers multiple channels through which you can reach their support team.
The live chat option allows for immediate interaction and real-time assistance. Alternatively, you can reach out to the support team via email at support@bet-boom.com. Additionally, for direct and immediate assistance, bettors can contact the Betboom customer support team by phone at +55 21 4042 0681 or +44 7520 641752.
In order to maintain the security and trustworthiness of their platform, Betboom implements a standard account verification process for all players before they can withdraw funds from their account. This procedure serves to safeguard the integrity of the betting platform and prevent illicit activities such as money laundering.
To complete the account verification, players are required to submit specific documents to Betboom. These typically include proof of identity, proof of address, and proof of the selected payment method. The verification process is usually completed within 24 hours, but may take up to 72 hours in some cases.
Betboom Betting Markets: Short guide
Betboom stands as a prominent bookmaker, holding a significant position within the betting market. This recognition enables the company to provide its valued customers with exceptional betting opportunities, presenting an extensive array of markets to choose from. By offering a wide variety of markets, Betboom ensures that its customers have access to diverse and comprehensive options, catering to their distinct preferences and interests.
Over/Under (Totals)
The Over/Under (Totals) betting option provides players with the opportunity to wager on whether the combined score of a game or event will exceed or fall below a predetermined number. For example, the sportsbook sets the Over/Under line at 2.5 goals. If you choose to bet on the Over, you are predicting that the total number of goals scored by both teams will be more than 2.5. Conversely, if you opt for the Under, you are betting that the total number of goals will be less than 2.5.
If the final score is 2-1, making a total of 3 goals, and you placed an Over bet, your wager would be successful. However, if the final score is 1-0, resulting in a total of 1 goal, and you placed an Over bet, your wager would be unsuccessful.
Asian Handicap
The Asian Handicap system emerged in Asia with the aim of creating a balanced competition between teams of varying abilities. It involves assigning a handicap in the form of a goal or half-goal, which is either added to the underdog team's score or subtracted from the favorite team's score.
By applying the Asian Handicap, the perceived strength difference between the two teams is mitigated, allowing for more even odds and a fairer betting environment. This system enables bettors to wager on matches where there is a clear favorite and underdog, providing them with greater flexibility and alternative betting options.
Accumulator Betting
Accumulator betting offers players the opportunity to combine multiple bets on different events or games. As each bet is added to the accumulator, the potential payout increases exponentially. To illustrate, imagine a player placing a bet on the outcome of three separate football matches. If all three bets are successful, the potential payout would be considerably higher than if the player had placed individual bets on each match.
Point Spread
In the point spread betting market, players have the opportunity to wager on the margin of victory for a specific team in a match. The point spread, also known as the handicap, is a predetermined number of points that is either added to the underdog's final score or subtracted from the favorite's final score.
The purpose of the point spread is to create a more balanced betting environment, particularly when there is a significant difference in skill or ability between the competing teams. By applying the point spread, the sportsbook aims to level the playing field and generate more even betting odds.
Money Line Bets
In money line bets, players make straightforward wagers on the team they believe will win the game without considering any point spreads or margins of victory. The odds assigned to each team are typically represented as positive or negative numbers. A negative number is associated with the favorite team, while a positive number is assigned to the underdog team.
Prop Bets
At Betboom, you'll find a wide variety of prop bets that offer exciting and diverse betting options. Prop bets, short for proposition bets, encompass a range of possibilities beyond the traditional outcome of a game. These bets can involve specific player performances, team statistics, or unique events within a match.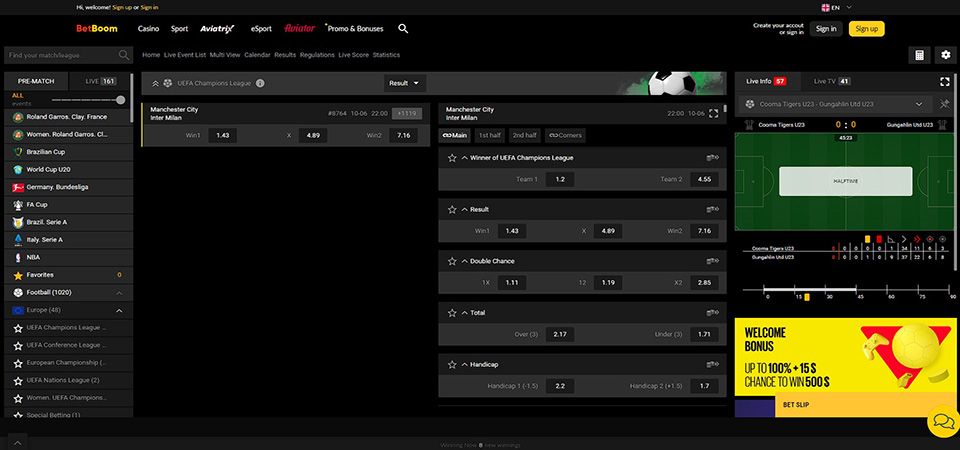 Betboom: Licensing and regulations
Betboom operates under the authority and regulation of the Curacao licensing body. This governing entity is a state-controlled organization responsible for overseeing and supervising gambling operators to ensure fair and transparent practices within the industry. By being licensed and regulated, Betboom is obligated to comply with stringent guidelines and regulations that safeguard players' interests, promote responsible gaming, and maintain the security of financial transactions.
How to place a bet in Betboom?
If you want to place a bet on your favorite sport, you can follow these straightforward steps:
Sign up and verify the account.
Deposit funds and claim bonuses.
Review the odds and make your selection.
Await the conclusion of the match
How to sign up in Betboom?
Creating an account on the Betboom website is a breeze. Just follow our simple step-by-step guide.
Click "Register" button

Look for the prominent "Sign Up" button on the website's homepage and click on it.

Fill in all required fields

Provide the required information in the registration form on the screen.

Verify your account

This can be done through email verification, SMS verification, or by providing additional documentation.

Well done

Congratulations! You now have a Betboom account. You can log in using your chosen username and password to start exploring the available features and place your bets.
Is Betboom Trustworthy? Final thoughts
Betboom is an esteemed online gaming operator that holds a valid license and operates in compliance with the regulations set by the Curacao Gambling Commission. This ensures that players can place their bets with confidence, knowing they are engaging with a reputable and responsible bookmaker that upholds high standards of integrity.
Beyond its licensing and regulation, Betboom prioritizes player protection and responsible gaming. The platform provides various tools and resources to support customers in maintaining control over their gaming activities and promoting responsible gambling. These tools include options for self-exclusion, setting deposit limits, and session time limits, empowering players to make informed choices about their betting habits.
In conclusion, Betboom stands out as a trusted and dependable football sportsbook , offering a secure and enjoyable platform for football sports betting enthusiasts.
Advantages
User-friendly apps
Competitive odds
Licensed and regulated
Lots of markets
Limitations
Restricted in many countries
Bookmaker reviews by players